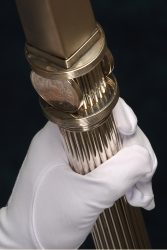 The ceremonial mace, used widely by universities, is a descendant of the royal scepter and the medieval battle mace. The university is incorporated into the design. The ornament atop the mace signifies a blooming cactus flower and the university's blooming maturity. The smooth, rounded walls of adobe architecture are reflected in the next section, while a disk carries the New Mexico State University logo on one side and a compatible Mimbres pottery design on the other. The many academic disciplines are noted in the bundled rods of the shaft. The meter-long piece is of sterling silver, while the center of the shaft holds a piece of wood from the university's first building, McFie Hall (Old Main), which burned in 1910. Literal and symbolic information about the academic mace signifies authority, and its use dates from the 14th century. New Mexico State University's mace is carried at commencement and other formal occasions by the president of the Faculty Senate.
Memorial in support of NMSU's Land Acknowledgement Statement
Proposition 06-19/20: Memorial in support of NMSU's Land Acknowledgement Statement was introduced in October of 2019 and approved by the Faculty Senate in December of 2019. The Memorial was acknowledged by President Floros and Provost Parker in June of 2020. It is important to share this with your faculty, staff, and most importantly, your students. Read aloud, implement it into your syllabi, memorize the words; may we begin to marry action with words as we acknowledge and respect the Peoples of this land.
Land Acknowledgement
New Mexico State University honors Native American knowledges and worldviews based on intimate relationships to the natural world. The genesis of the Southwest Indigenous Peoples, including the Pueblo, Navajo, and Apache, established their guardianship of the lands now occupied by New Mexico State University. As the state's Land-Grant University, we acknowledge and respect the sovereign Indian Nations and Indigenous Peoples. We pledge to have a meaningful and respectful relationship with the sovereign Indian Nations, Indigenous communities, and Native American Peoples within the institution.